ridevi, who has in the recent past supremely upped her fashion game, gave us all a bit of a shock with her choice of clothing last night.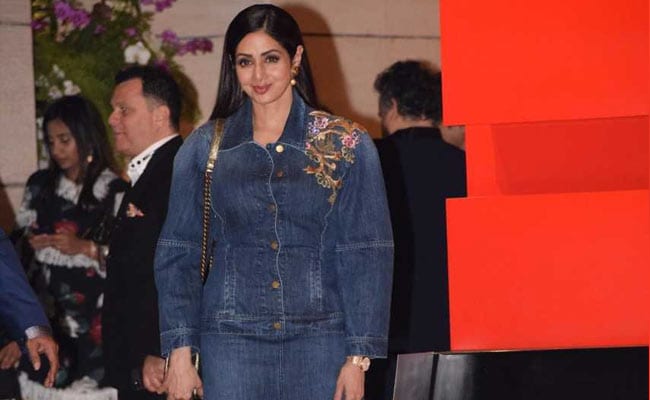 Last night saw the Ambani residence in Mumbai gleam with the light brought about by the presence of Bollywood's who's who. Some of Bollywood's favourite stars were in attendance for this bash thrown by the Ambanis for London's mayor, Sadiq Khan.
With any event like this, the list of people invited is always interesting to see. What's even more interesting is the outfit choices that most of these guests make. Shah Rukh Khan, Amitabh Bachchan, Karisma Kapoor, Alia Bhatt, Katrina Kaif, Karan Johar, Neha Dhupia were amongst the stars that visibly made it onto this venerable list. Amongst them was also, of course, Sridevi, along with her husband Boney Kapoor.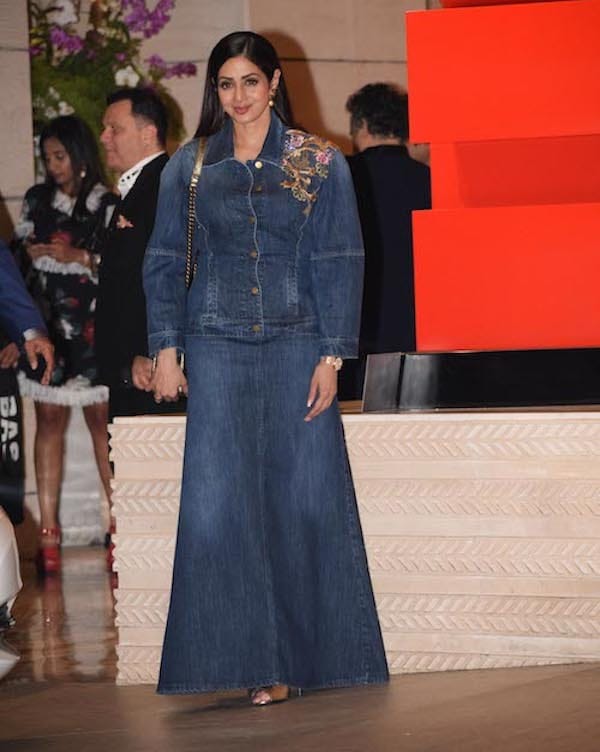 Sridevi, who has in the recent past supremely upped her fashion game, gave us all a bit of a shock with her choice of clothing last night. Sridevi, who has been opting a lot for Manish Malhotra and Sabyasachi Mukherji's fine and delicate garments for a while now, showed up in this disastrous denim on denim outfit.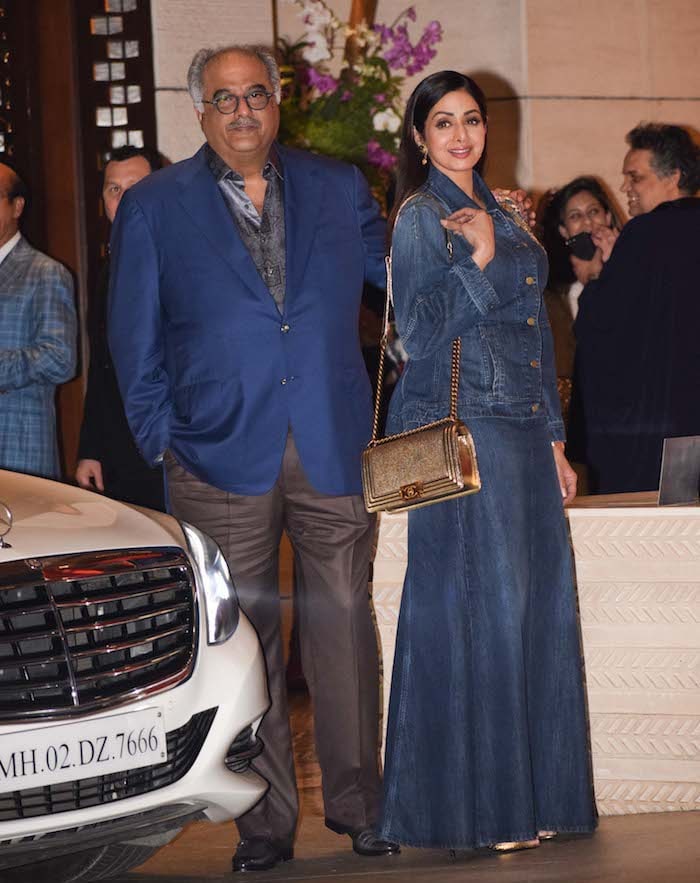 We're wondering if we should attribute this major fashion faux pas to the absence of daughter Janhvi Kapoor. We already know Janhvi helps style her mom. "What I'm wearing is approved by her. I go by her thoughts and it's fun. We're like friends, sharing each other's thoughts and it's really fun to get ready. She is always there for me," Sridevi told NDTV a while ago.
Bollywood's newest fashionista is off shooting for Dharma Productions' latest, Dhadak. Perhaps Sridevi should think about getting all her outfits pre-approved by her daughter, who mostly seems to get it absolutely right in the fashion department.
There were some, though, who served as an absolute treat for our sore eyes.
Gym buddies, Katrina Kaif and Alia Bhatt, sparkled in their respective ensembles. Katrina showed up in a gorgeous floral, embellished sari by Tarun Tahiliani. Alia, on the other hand, looked just as gorgeous in a plain black top and a multicolour sequin skirt. We'd give both of them a thumbs up for their up-to-the-minute choices.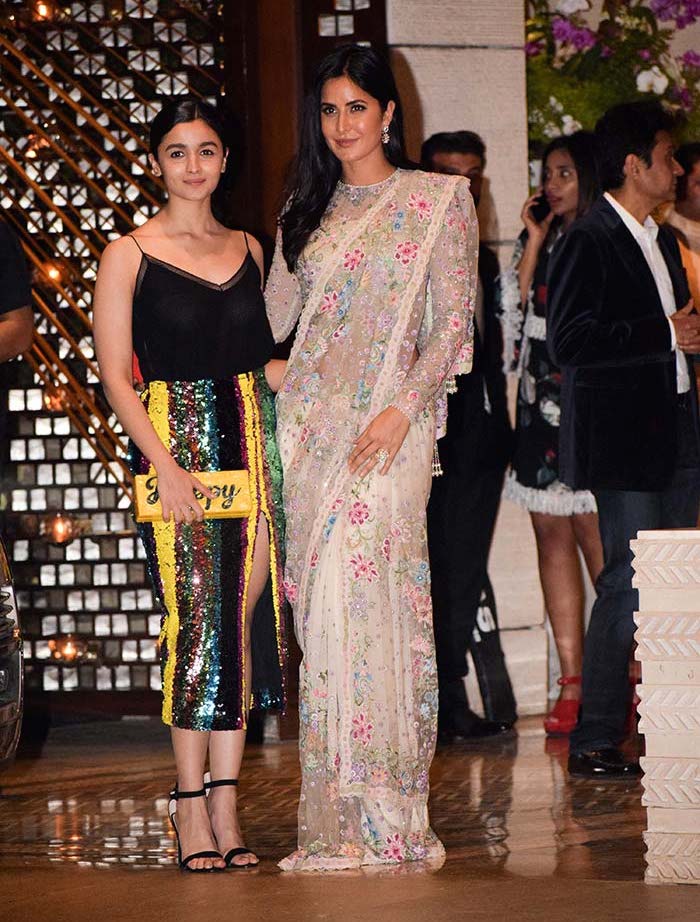 Joining them, of course, was Karan Johar who just can't be ignored. Karan looked just as dapper as these two ladies did poised and stunning.
Karisma Kapoor who's been making quite a few statements herself, at least in the fashion department, showed up in a plain black pantsuit with a polka dotted shirt. She kept it simple, but perhaps that was the safest way to go for this formal night. We don't love it, but we have no complaints!
Also spotted outside the Ambani residence was Neha Dhupia. While we felt that Neha looked a little OTT for the occasion in her black and grey one-shoulder gown with a massive bow on one side, we still don't think she made as much of a faux pas as Sridevi.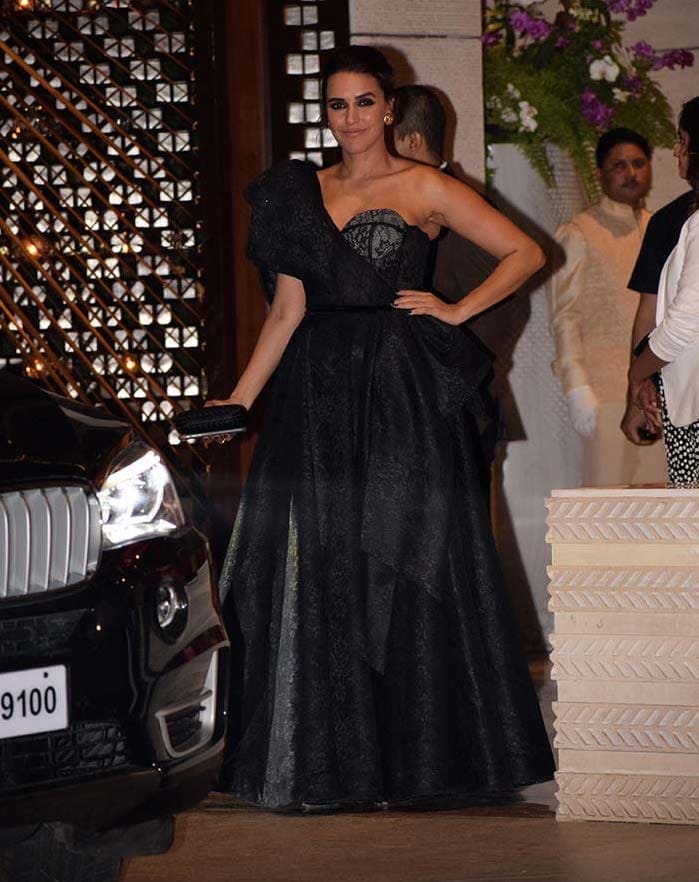 Here's hoping that Sridevi has a serious talk with her stylist for the night – or that she just takes her daughter Janhvi's advice as far as fashion choices are concerned.
["Source-ndtv"]