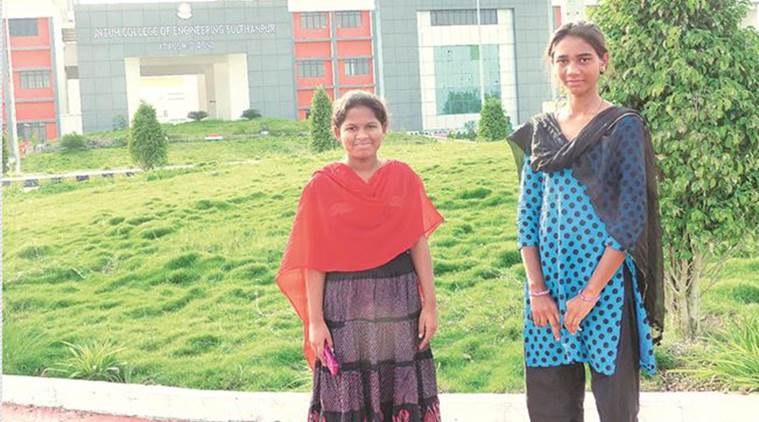 There is a spring in C Kalyani's step as she walks out of the girls' hostel on the sprawling, leafy campus of Jawaharlal NehruTechnology University (JNTU) at Sulthanpur in Telangana. It is her first day in college. The diminutive girl is the first from her vanishing community, the Primitive Tribal Group (PTG) Thoti, to go to an engineering college.
"I cannot believe that I am here on this huge and beautiful campus and such a great college. I am so lucky, you know? It is a dream come true," she says. She arrived at the campus earlier this month to complete the formalities for joining. "This is the first time I am staying so far away from home. It is a six-hour drive to my home from here," says Kalyani, who belongs to Dubarpet in Adilabad district.
"I am happier because my roommate happens to be a friend from the tribal coaching centre," she says. Her roommate, R Soumika, is from the Lambada community and has joined electronics and communications engineering. Kalyani, who aims to become a scientist, has opted for material science and nanotechnology engineering. She is eagerly waiting for classes to start.
"Especially maths, I love it," she says. "I like the regimen here. Breakfast is at 8 am at the dining hall, then it's back to room to get ready to go to classes at 10. At 1:30 we will break for lunch and go back at 2 and study again till 4:30. Then, back to the room. I am loving it already." Fighting against various odds including poverty in their communities,Kalyani and Soumika made it up to Intermediate, then were selected for coaching for JEE and Engineering Agricultural Medical Common Entrance Test (Eamcet) along with 28 other tribal students at Telangana's tribal students' welfare residential schools in Adilabad district under a special coaching programme called Star-30. The tribal students cracked JEE Main, JEE Advanced (for IITs) or Eamcet to secure admission to top engineering colleges.
Kalyani says her father C Krishna, a labourer, struggled to send her to school. "He wept for joy when I told him I had made it to engineering college. No girl in my tribe has studied beyond class V. Boys drop out after X. But I insisted I want to study and my father struggled hard to pay school fees and buy books," she says. "I will be the first engineering graduate from my community. My brother is in second year Intermediate and sister is in VII. I did not get much time to prepare for JEE but I passed Eamcet. I am lucky to get admission to a top college like JNTU.''
At a time when populations of forest-dwelling tribal communities are dwindling across the country, seven boys and girls from three primitive and vanishing tribes of Telangana created history this year by becoming the first from their communities to join engineering colleges – Pujari Adharsh, Pudari Srinivas, P Pavan Kalyan, M Pushpalatha from the PTG Manne community, and K Ramatha and A Parmeshwar from PTG Kolam, besides Kalyani from PTG Thoti. Counselling ended last fortnight. In another first, two boys from the Lambada community got admissions in IIT Varanasi and VNIT Nagpur.
Mancherial district collector R V Karnan, Adilabad DC Dr Jyothi Buddha Prakash, and in-charge Anura Jayanthi were given Telangana Excellence Awards on Independence Day for the project Star-30. Less than 2,000 people each of the three PTG groups live in Telangana. Most of them live in tribal hamlets on the periphery of forests in Adilabad and Karimnagar districts. Literacy levels are very low and most of them work as farm labour.
Last Tuesday, Adharsh joined JNTU at Karimnagar, opting for information technology. He ranked 2594th in JEE in the ST category. Hailing from Ippalaguda, a tribal settlement in Kouthala mandal of the newly created Komaram Bheem Asifabad district, Adharsh made it through extreme poverty. His father P Buchaiah, who used to work as a farm labourer, was paralysed three years ago and remains bedridden now while his mother Sharada now works for daily wages.
"After I passed JEE, someone gave me a cheque for Rs 10,000. I added another Rs 500 and paid the fees of Rs 10,500 at JNTU. I borrowed another Rs 5,000 and paid hostel fees," Adharsh says. "When I started from my village to go to college, my mother had just Rs 100 which she gave me for bus fare. I am hoping the government will reimburse the fees and I will be able to pay fees next year."
In his community, few study beyond class X. "Girls drop out after V. Until I joined special coaching camp, I did not know about IIT or Eamcet," he says. "There were many reasons including severe financial hardships for me, too, to drop out. It was constant encouragement from my teachers and Mancherial district collector and ITDA project officer R V Karnan that I made it this far,'' he said.
Pavan Kalyan's parents work as labourers in Kompalle village in Mancherial district. "My maths teacher in junior college told me about the coaching camp for tribal students started by Karnan. Until then I did not know about IIT," he says. "I could not clear it but cracked Eamcet because of the coaching. I got admission at CMR College of Engineering and Technology, Hyderabad," he says.
Srinivas, also of the Manne tribal group like Adharsh and Pavan, cleared JEE Advanced. He wants to start an IT start-up company after his engineering. "As soon as I make some money, I want to adopt my village Nambal in Komaram Bheem Asifabad district and set up schools and a college. I want to arrange free coaching to my village students to compete in all-India entrance tests," he says. Srinivas has joined electronics and communication engineering in Arjun College of Science and Technology. His father P Ganesh works as a farm labourer.
Ramatha is the first woman from her Kolam community to get admission in an engineering college. Her brother Jyotiram became the first man to go to college when he got a seat in B Ed recently. Ramatha got a seat at Kakatiya Institute of Technology and Science for Women at Nizamabad on Monday. Hailing from Arkapur village in Nizamabad district, her father Atram Abhiman, a poor farmer, was in a quandary initially. "I can pay fees for only one of them. I don't have enough money to send both my son and daughter to college. I am very happy that my daughter has been offered a seat in a top engineering college, and she is the first in our small community, but I may not be able to afford the fees," Abhiman says. A week later, he borrowed and paid for Ramatha's fees.
"There are only 2,000 people of my tribal community left in," Ramatha says. "Most of them still live in hamlets in forests or on the periphery, mostly working as farm labour. They do not know anything about engineering or medical colleges or IIT or EAMCET. Their life just revolves around ensuring one proper meal a day. The coaching given to students in tribal schools will change the lives of tribal students for ever. I want to complete my computer science engineering course." S Bujangarao of the Gond community got admission at VNIT at Nagpur in metallurgical and materials science engineering after becoming the first Gond to clear JEE. Although three students from the Lambada community cracked JEE last year, this year Badavath Rajender secured a better rank and went to VNIT.
[Source"indianexpress"]