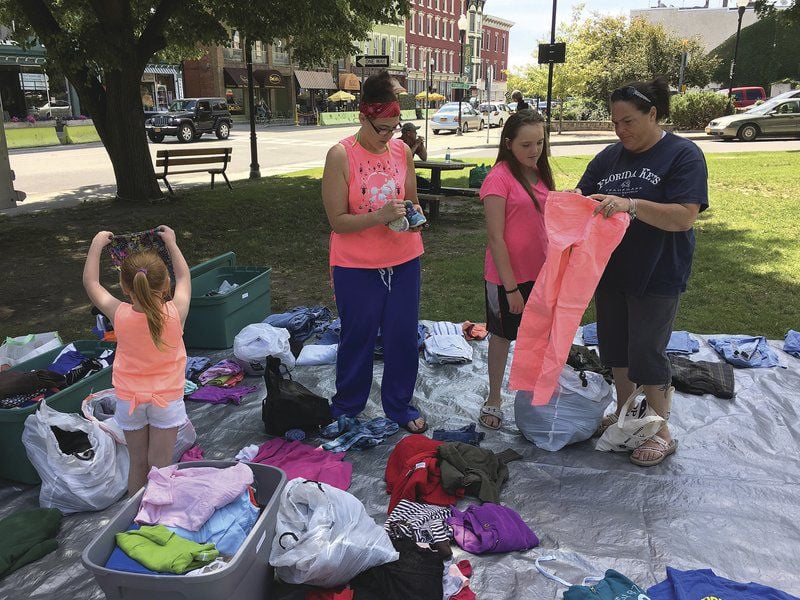 PLATTSBURGH — Those in need can obtain free clothing and adult "daily living" kits in Trinity Park on the fourth Friday of every month.
The Cadyville Wesleyan Church outreach program started the new program last Friday.
It is scheduled to run from 10 a.m. to noon in those final Fridays at least through the end of the year.
Organizer Mary Lou Morgan said she has done work of that kind in Montreal for at least 10 years.
"That led me to want to offer something similar in Plattsburgh to assist those in need," she said. "The Lord just put it in my heart."
Even though they initially publicized the event only through word of mouth and fliers, a steady stream of people came to Trinity Park on Friday morning to rummage though the piles of clothing and obtain a supply kit.
WILL HELP MANY
Kayla Baldwin and her daughter, Hailey Baldwin, and Jennifer Desso and her daughter, Emily Desso, were among those who stopped by.
Kayla said she is from the Jay/AuSable area but temporarily living in Plattsburgh as she makes a fresh start.
She was picking her own items but also watching as Hailey excitedly chose clothing from the piles spread across blankets in the park.
"I think they should have this all the time," Kayla said. "I think it will help a lot of people."
WORKING TOGETHER
Morgan said they have received an invitation to hold the program in the basement of Trinity Episcopal Church during cold weather.
She thanked the Plattsburgh Common Council for its approval to start the program in Trinity Park.
"This is our first day. We'll see what works, what doesn't and make changes as needed," Morgan said.
That includes a shift to warmer clothes as fall approaches.
All clothing and personal-care items come from donations.
Morgan thanked the volunteers who showed up to make the first day a success. Among the helpers were Angela Carter, Martha and Mike Eckler, Laurie Burke, Donna Trombley, Kaddie Carter and Bennett Steady.
Carter said she and Morgan reached out with notifications to various assistance programs throughout the area so they could tell people who use their services about the new offering.
In addition, they started to put up their own notices about a week ago.
"We posted in every public place we could think of throughout the city," Carter said.
Morgan said she was pleased the weather cooperated for their first day.
"I prayed for that."
[Source"timesofindia"]