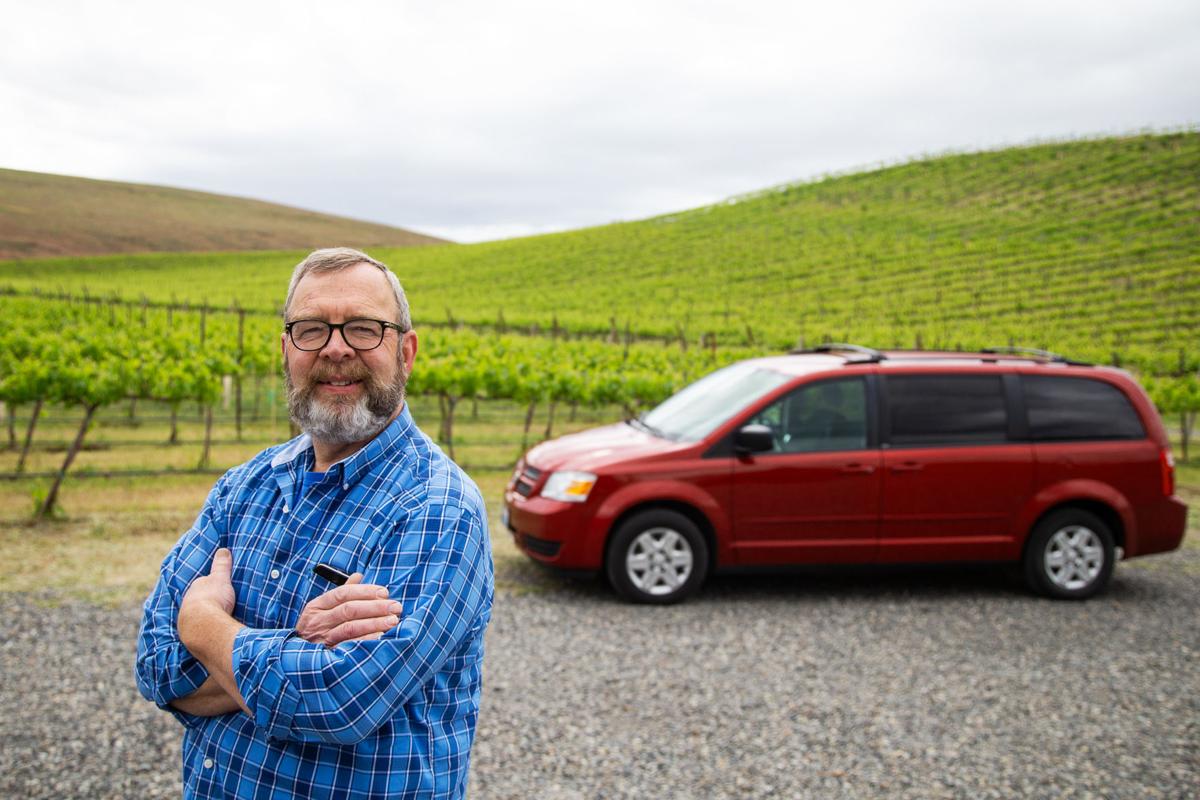 Eric Miller, who owns and operates several businesses including Wineries Express, LLC, is photographed with a van used for wine tours near an Owen Roe vineyard in Wapato, Wash., Friday, May 11, 2018.
Editor's note: Take 5 is a weekly meetup with a local business owner or entrepreneur.
SELAH — Eric Miller is quick to point out that there's no grass growing under his feet.
A former home builder, Miller went back to Central Washington University when the housing bubble burst to earn a bachelor's degree in global wine studies as well as a communications degree. In addition to running ADA Boomer Construction Inc., which remodels homes for people with disabilities or seniors who want to age in place, and Now Direct Delivery, Miller puts his wine degree to use with Wineries Express LLC, which offers tours of the region's wineries and breweries.
Wineries Express is in its sixth season. Miller employs four part-time workers, some of whom work for his other businesses.
Raised in Grandview, Miller, 62, now lives in Selah with his partner of 15 years, Linda Schactler. He has a daughter, Brigette, who is earning a degree in physics at Walla Walla University.
What led you to start Wineries Express?
I earned my wine degree at age 57. I was sure that with the project management, sales, marketing, design and customer service experience that I would be very valuable in the corporate world of the wine industry. I had this idea of informative/educational wine tours while getting my degree and presented it as a project. I was working for a small winery while I started the business. That particular enterprise turned out to not be a good fit, though I did lots of good work for them.
The business, honestly, still is not a living, but I enjoy it so much. I now consider it "avocational."
I have started two other businesses along the way. Now Direct Delivery makes on-call deliveries for local/regional manufacturing companies who sometimes need product delivered or picked up to keep assembly lines running or to meet time obligations when there may have been a glitch in their production operations. ADA Boomer Construction Inc. is a residential construction and remodeling company, which takes me back to what I was doing before the economic downturn and return to college.
Was it hard to go back to school in "midlife," as you put it on your website?
When the bust of 2008-09 came along, I found myself unemployed with no home building industry jobs available. Having always regretted not finishing college when I should have, it was my chance to make that right.
Was it weird being the only grandpa in a class of 21-year-olds?
I just didn't let it be weird. I was a very good student and made lots of young friends and still am in frequent contact with professors and fellow students from CWU and the wine program. It was a fun time. It broadened my world tremendously. My partner, Laura, has been incredibly helpful, even through losing her son and other challenges we have faced.
Between your three businesses, how do you balance work and life?
I work at being as efficient and organized as possible with all three businesses. I do put a premium on being home with Laura in the evenings as much as possible, and try to leave the office behind by no later than 6 p.m.
There are nights when I do a bit of computer work, research, follow-up after hours, and I often do take calls at unusual hours. For family events I work hard to fit them in, though I miss some.
What advice would you give your younger self?
Finish your college degree, no matter how inconvenient or how much you must work while also taking classes. Save money and invest from every single paycheck. Love and relationships are wonderful, and they operate a lot better with a sense of security and steady income. Choose a career that keeps your attention and curiosity up, and stay with it.
What are some of the challenges and benefits of operating a business that does not have a traditional brick-and-mortar presence?
Two of my businesses really don't need a "place" for people to relate to. An office to keep records, make calls, coordinate and direct traffic from is useful, and I have that. The WineriesExpress.comwebsite and social media presence on Facebook, Instagram and Twitter are what people see. The construction company is small now but will eventually need a showroom to demonstrate unique products I carry, like the new handrails I sell, install and wholesale, and wine storage/display systems I will take on. Hopefully I can build that in a couple of years or sooner. My other businesses will also operate from that location.
["Source-yakimaherald"]