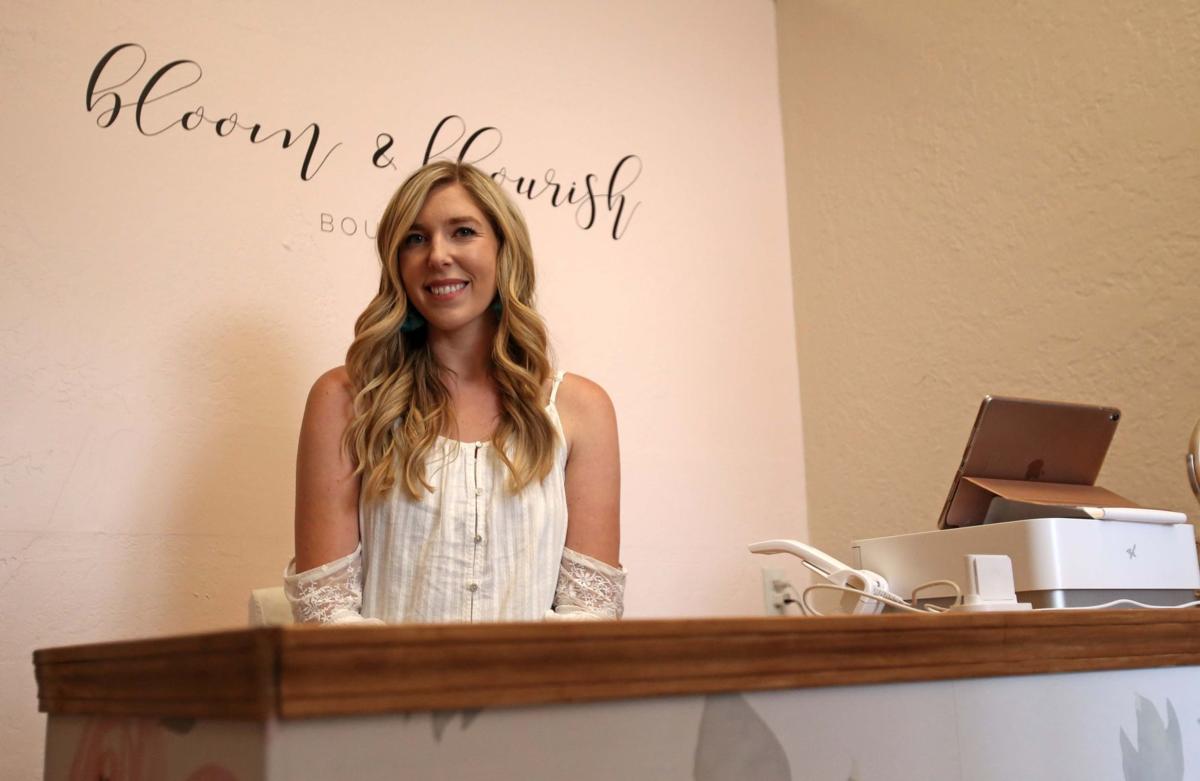 Nicole Paul knew that someday she would accomplish her dream of opening and running her own clothing store and boutique.
She didn't think it would happen so soon.
Paul, who grew up in Klamath Falls, opened her first storefront for Bloom & Flourish Boutique at 129A South Sixth Street just three weeks back, which follows an online and social media business she ran beforehand.
Even in such a short time, Paul has had some exciting encounters. In one case, a customer was ecstatic to discover the perfect dress for her daughter's wedding.
"She found a dress right away and was so excited about it," Paul said. "She couldn't stop talking about how excited she was."
Starting 'something special'
After graduating from Klamath Union High School, Paul attended Oregon State University where she majored in merchandise management and entrepreneurship through the university's College of Business. She said she lived in the Wilamette Valley with her husband before returning to the Klamath Basin.
Before moving back, Paul worked as a manager for an area retail chain. She said both her education and work experience helping customers gave her the tools she needed to step closer toward her own business goals.
She also said that, if need be, she's willing to be any customer's "personal shopper" in the quest of discovering a new wardrobe.
"People aren't just customers to me," Paul said. "I really like to get to know everyone and remember them when they come in, remember what they bought last time."
Paul's current store has everything from clothing and shoes to accessories and jewelry. She likes to keep her inventory more unique and affordable, adding that she may have several brands some women may not have heard of.
Building up connections she made with her online store, Paul said she plans to update her inventory often enough so shoppers have a new experience each time they come in.
"Everything has something a little special to it," Paul said.
Discovering downtown
As her own storefront journey continues, Paul also reflected on the support she has received from patrons and another business owner in downtown Klamath Falls.
Paul said she had help from Liz Nelson, owner of Painted Pieces, during her grand opening celebration back in May. Nelson is also newer to the storefront scene, which she opened along the 100 block of Fifth Street in November 2017.
Now that she's in the mix, Paul said she has thought about some of the hurdles that could come with owning a smaller storefront in a rural downtown setting. For one, she said it could be quite challenging for smaller stores to stand out in an age when most people either shop online or head toward larger department stores in Medford.
But in Klamath Falls, Paul said she sees a spirit of small business.
"When they do have the chance, they do want to support local business," she said. "There's lot of places to shop downtown here."
Taking the plunge
Darin Rutledge, executive director of Klamath Falls Downtown Association, had a chance to visit Bloom & Flourish when it first opened. Rutledge described it as a good example of another unique addition to the downtown business scene.
Like Paul, Rutledge shared challenges and obstacles that new business owners could face. Still, he and others have seen signs of an uptick with more people renting out more storefronts for businesses.
Last fall, at least seven new businesses moved into downtown locations. This included everything from a specialty soap shop to a saddle store where the owner may even haggle with customers.
"People like that are taking the plunge and so far still around," he said. "I think those are good signs."
Rutledge said that he encourages anyone considering their own venture to explore downtown and resources available beforehand. He also advises that more new business owners reach out to other shopkeepers in the area or the downtown association for more information.
"Don't try to do it alone," Rutledge said. "Come down and talk to downtown business owners."
["Source-heraldandnews"]